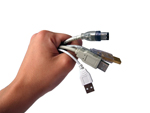 At Computer Upgraders we sell a number of other products that are not only high quality, but also affordable. These products range from hidden cameras to port adapters. The following is a list of just a few of these products:




Keyboards
Mouse Devices
Hidden Cameras
Ethernet Cables
(Custom Length)
Cable Adapters
Port Adapters
and much more!




Many of our products come with a lifetime warranty.

For more pricing info give us a call at (803) 773-2881
If you would like to take a look at our full selection stop by Computer Upgraders!